As part of our ongoing efforts to refine our products and enhance your creative experience, Roland Cloud is pleased to announce the latest updates to Concerto and Drum Studio - Acoustic One. Check out these exciting new features:
CONCERTO UPDATES
Concerto is now replete with a new EQ effect. This five-band EQ lets users create low-end and high-end shelves and increases maximum frequency manipulation for any Concerto instrument. Sculpt your sounds until things sound just right. Our Compressor effect is now called Dynamics and, along with a makeover, has new functionality. The Compressor now includes Auto Gain which makes smart adjustments to the signal based on your current settings. Our new Expander feature operates as a noise gate, making quiet sounds clearer and more dynamic. Our Flanger has also been updated to include a negative dynamic range for richer and more complex sonic possibilities. We recommend putting it on your whole kit.



DRUM STUDIO UPDATES
We've heard your feedback, and Drum Studio – Acoustic One is now easier to use than ever. Each drum lane is newly equipped with a helpful drum image for quick and easy identification in your instrument workflow. These images also serve as audition buttons so you can craft the perfect tonality of an instrument outside of playback.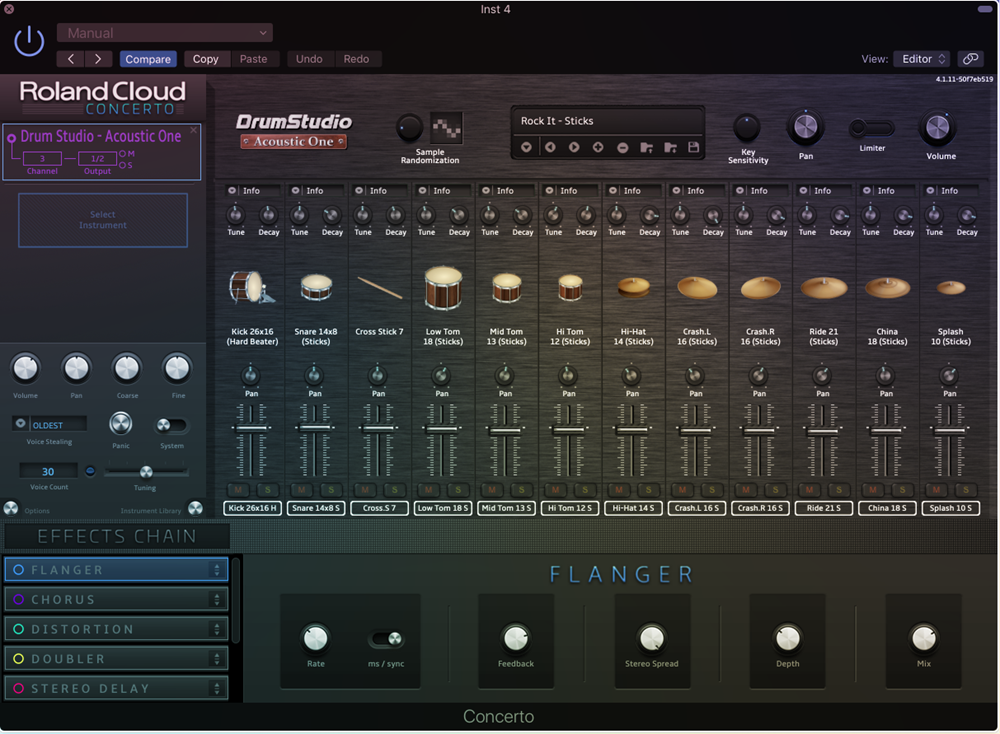 Our new Control-click option changes all instrument panel displays simultaneously. Get granular and change from our info, mix, comp, and reverb skins for individual sub instruments, or change all parameter views at once by simply holding down Control as you click. Create your ideal kit with individually selectable sub-instruments.




By clicking the instrument name, blend drum elements from all ten of our genre-oriented kit templates to create a blended sound that's uniquely your own. Finally, we've implemented a MIDI-blinker in the sub instrument title box—an informative and aesthetic upgrade. Lower velocities show up as a faded color, while aggressive velocities will shine brighter.

Input from Roland Cloud's users drives our updates. Have a suggestion for new effects or an instrument you'd like to see? Let us know!