Roland drum machines have inspired artists and defined genres for decades. With the Drum Machine Collection, you get five of our most revered rhythm machines from the '80s, recreated as modern plug-ins with new sound-shaping options and advanced sequencing capabilities. Backed by our Analog Circuit Behavior (ACB) technology, these iconic instruments are brought to life with breathtaking realism in your DAW—and all for one low price.
Legendary rhythms.
The Roland drum machines in this collection have served as the rhythmic backbones for countless tracks over the past 40 years. Their creative impact is undisputed, and they continue to drive modern music across a range of styles. These authentic recreations sound and behave just like the vintage hardware, coupled with advanced programming features and extended sound-shaping options for today's production styles
Analog Circuit Behavior (ACB).
Thanks to our proprietary circuit modeling technology, these classics are ready to imbue your tracks with retro energy and fuel tomorrow's masterpieces. The ACB process involves carefully analyzing original hardware units, circuit diagrams, and other historical data. We then use this information to recreate the authentic circuit behaviors of the vintage instrument—including all the beloved quirks and instabilities—giving these rhythm machines their amazingly lifelike sound and organic response.
The Five
TR-808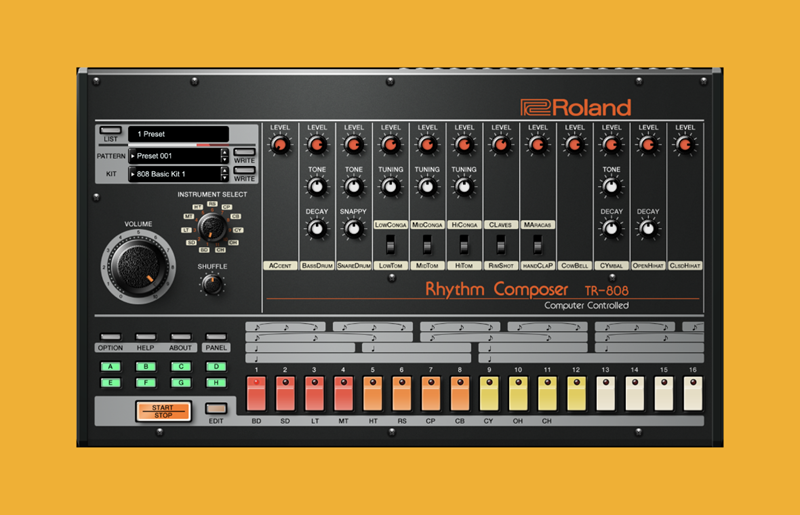 Released in 1980, the TR-808 is one of the most revered and sought-after electronic musical instruments of all time—and its influence only continues to grow. While it dominated the sound of emerging rap and hip-hop styles, new musical genres make heavy use of the 808 sound with its unmistakable boom, snap, and sizzle. The 808's effect on music is so deep that it's been name-dropped in famous songs, had albums dedicated to it, bands named after it, and is even the subject of a feature-length documentary film.
TR-606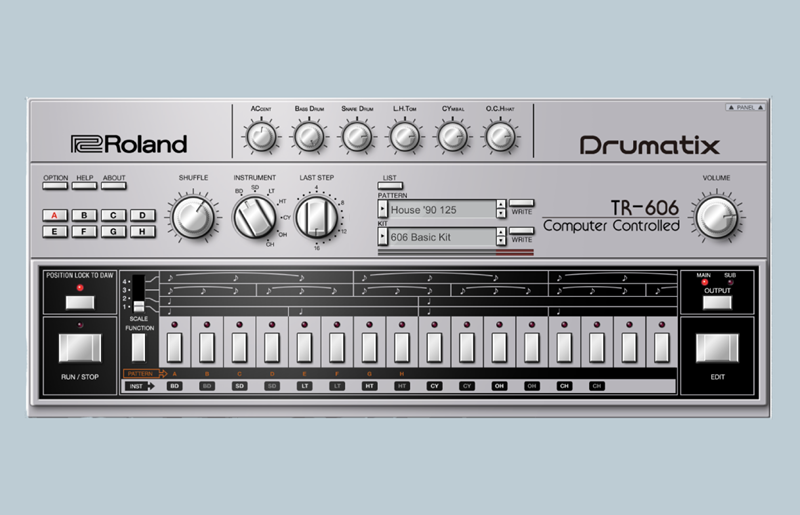 The TR-606 Software Rhythm Composer is a detailed replica of the TR-606 Drumatix from 1981—an underground classic in the famous TR family of rhythm machines. The punchy midrange kicks, popping toms, and sizzling hi-hats were a hit with DIY musicians and have appeared across an array of genres, from '80s new wave and punk to electronic styles. Today's musicians continue to seek out the TR-606 for its alternative approach to the Roland TR sound.
TR-909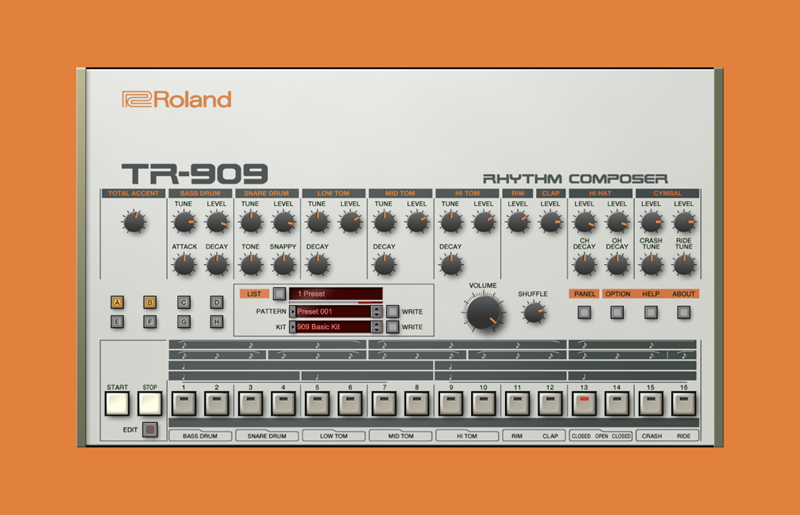 Released in 1983, the influence of the TR-909 drum machine is still heard—and felt—nearly four decades after it was launched. Much like the TR-808's dominance in rap and hip-hop, the TR-909 left an indelible mark on electronic music styles like techno, house, acid, and industrial. From the "uhn tiss" of its thumpy kick and chunky hi-hats to the snappy snare rolls used in dramatic builds, it's the sound you hear in your head when you think of hard-driving, floor-shaking dance music.
TR-707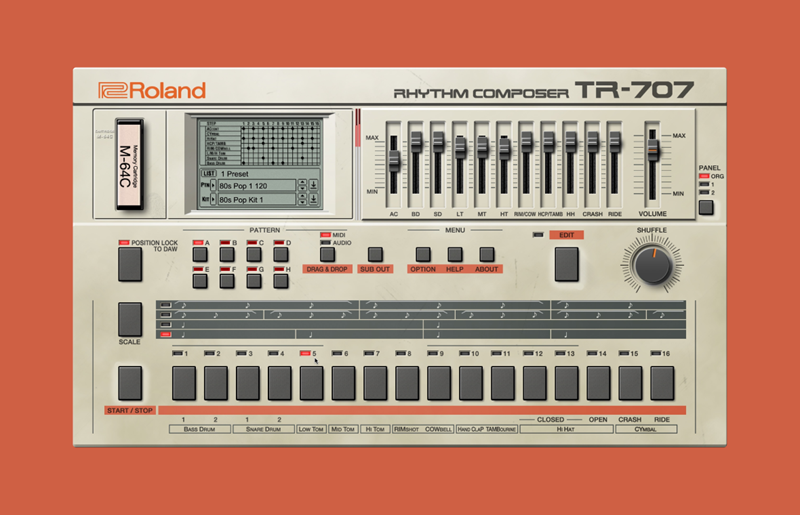 The now-famous TR-707 Rhythm Composer was released in 1985. Taking its rightful place next to other classic Roland drum machines, this previously underrated instrument has since appeared on hit tracks in a long list of genres, including synth-pop, acid house, industrial, electro, indie, alternative, and more. Taking inspiration from aftermarket modifications, the massively updated sound-shaping options in the plug-in let you adjust tuning, decay, attack, snappy, gain, sample rate, and more.
TR-727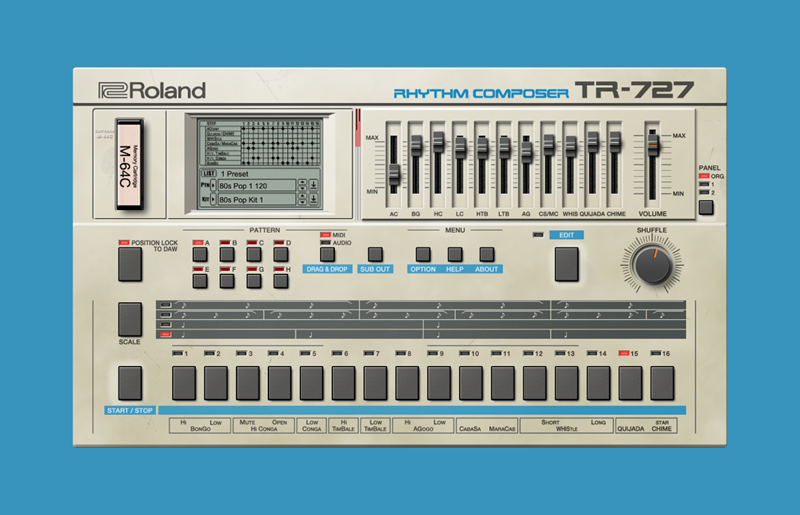 Roland introduced the TR-727 Rhythm Composer alongside the TR-707 in 1985. Lesser known but no less loved, this Latin percussion-packed sibling has found its way into a wide range of styles over the decades, from tribal and acid house to pop and techno. And it's also perfect for afrobeat, reggaeton, and more exotic contemporary styles. This software recreation perfectly nails that vintage vibe, expanded with tuning, decay, and other manipulations that make the creative possibilities bloom.
Hands-on control and pattern transfer.
The Drum Machine Collection offers sophisticated integration with the Roland TR-8S Rhythm Performer. Adjust the software instrument controls in real time using the array of knobs and sliders on the TR-8S. And instantly send your patterns back and forth between the hardware and the plug-ins.
Purchase the Drum Machine Collection for $499* in the Offers tab in Roland Cloud Manager.
*Price reflects USD only and is subject to change based on local currency.