(PLEASE DOWNLOAD ZENOLOGY 1.1 IN ROLAND CLOUD MANAGER TO ENABLE MODEL EXPANSIONS*)
Launched in 1985, the innovative JX-8P took analog a step further with capabilities that could generate tones associated with digital synthesizers, making it highly versatile. With the JX-8P Model Expansion, we reintroduce the unique voice of this sought-after classic for the first time ever. The hands-on editing functions of the companion PG-800 programmer are also included, thoughtfully integrated into the user interface.
Legendary Sounds at Your Fingertips
The JX-8P Model Expansion captures the essence of its vintage inspiration with astonishing realism and authenticity. With expanded polyphony and a boldly modern interface, it delivers the unique sound and experience of the original hardware—without the expense and maintenance.
Built for Speed
Model Expansions are designed for speed and performance in modern production. When hosted in ZENOLOGY, they take full advantage of the plug-in's intuitive interface, efficient CPU usage, touch-friendly controls, and easy resizing. And you can swap Model Expansions and load sounds instantly, with no disruption to your creative flow.
Software. Hardware. Anywhere.
Model Expansions work in your DAW via ZENOLOGY—and will soon enhance compatible Roland ZEN-Core hardware. So whether you're in the studio, on stage, or on the go, your favorite sounds are ready when you are.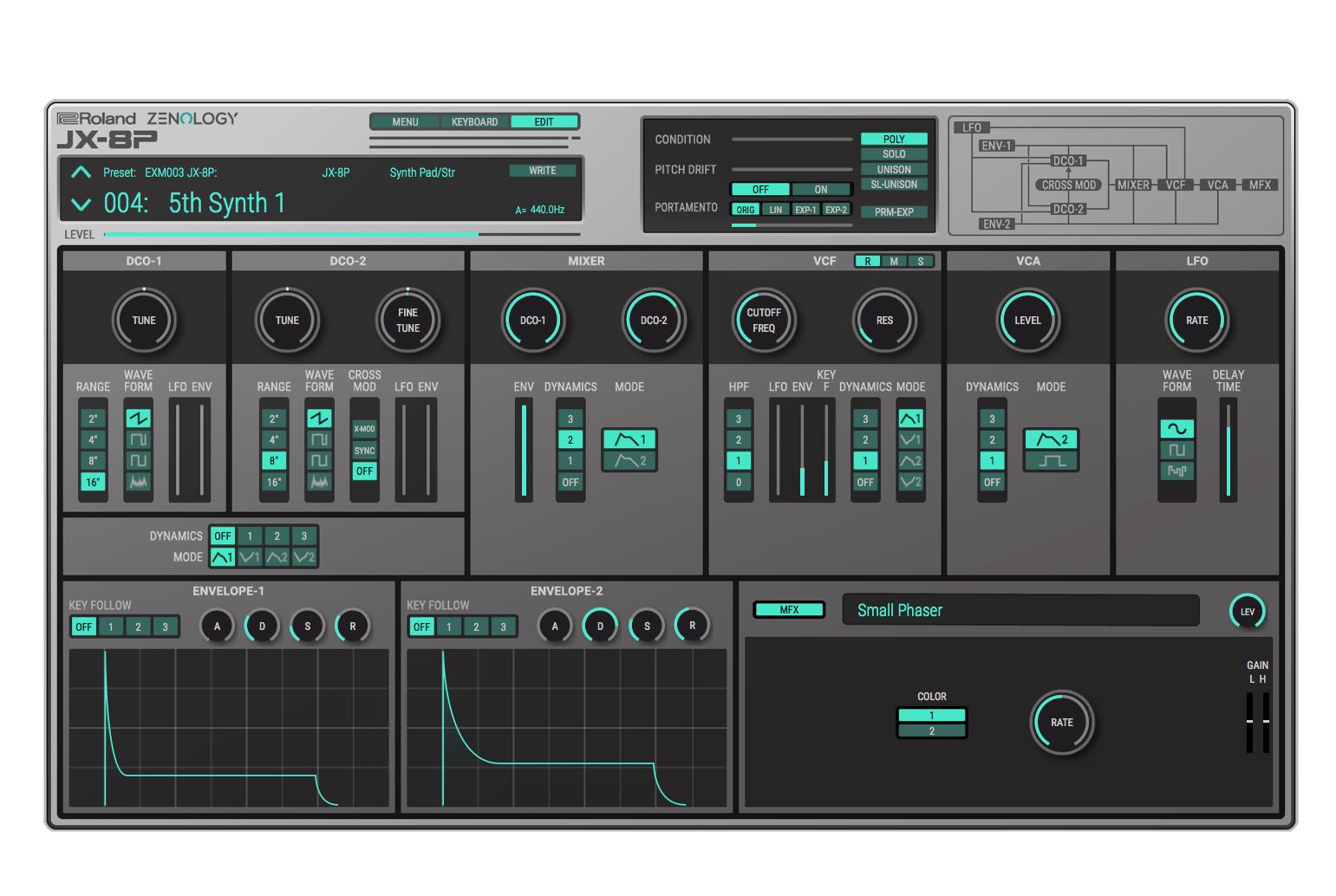 About Model Expansions
Authentic Roland Synthesizers. Ready When You Are.
Model Expansions transform ZENOLOGY and ZEN-Core hardware into entirely different instruments with their own sonic personalities, features, and preset tones. From rare and sought-after classics to the designs of tomorrow, Model Expansions give you unprecedented access to the historic and ever-evolving world of Roland synthesizers.
The Past Is Just the Beginning
For future Model Expansions, the possibilities go far beyond vintage. The power of the ZEN-Core Synthesis System enables exciting, never-before-heard Roland synthesizers that may—or may not—be inspired by existing hardware.


Download the JX-8P Model Expansion today with a Roland Cloud Pro or Ultimate membership.
*Model Expansions are compatible with ZENOLOGY Lite, however SAVE and EXPORT features are not supported.