Originally released in 1983, the JX-3P was one of the earliest programmable preset polyphonic synthesizers and Roland's first MIDI-equipped machine. In the decades since, artists like The Future Sound of London, Astral Projection, Vince Clarke, Orbital, and Thomas Dolby have utilized the JX-3P.


VINTAGE '80s SOUNDS REIMAGINED
In the early '80s, the synthesizer market was in flux. Spurred by trends in contemporary music, synths began to creep into popular culture. Roland, in lieu of complicated controls, shifted towards inclusive designs. Why not create a keyboard with Roland's iconic analog warmth but make it accessible? Thus the dawn of the pushbutton interface and the introduction of the JX-3P. The JX-3P condensed the signature Roland sound users had come to expect into 64 stunning presets.
Beautiful design, meticulous craftsmanship, and ease of use—the JX-3P was a Roland synth for aspiring youngster and virtuoso alike.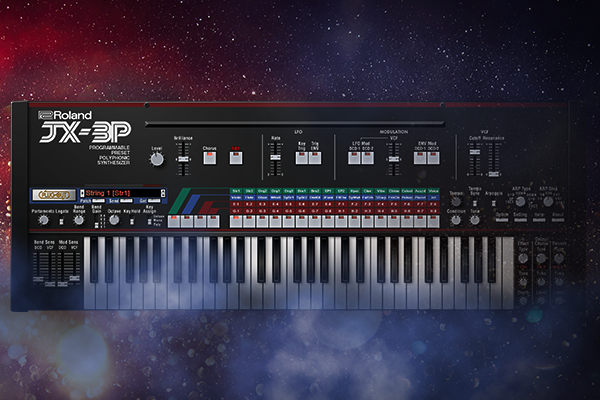 Don't let this synth's sleek veneer fool you. The most attractive quality of the JX-3P is its versatility. The presets alone provide a masterclass in sonic engineering. Present midrange, shimmering high end, punchy bass frequencies—it's all there. Throw in a revolutionary MIDI option, and it's easy to see why this user-friendly powerhouse is now part of Roland Cloud's Legendary series. What about hands-on sound manipulation? Enter the PG-200. Augmented by the PG 200, JX-3P users could navigate between out-of-the-box excellence and infinite customization. Visceral control options, not one but TWO stabilizing Digitally Controlled Oscillators, and Roland's unmatched soundscapes—it's no wonder the JX-3P shines brightly on countless classic recordings.

"The JX-3P is something of a hidden treasure – there is more to it than meets the eye." -VintageSynth.com

"One of Roland's most under-appreciated synths." -ElectronicBeats.net

The JX-3P software synth offers a crystalline ACB-component (Analog Circuit Behavior)-level replication of the JX-3Ps lustrous textures. Running the gamut from classic string sounds to crushing metallic pads, this six-voice polyphonic recreation will stoke your creative fire. View the JX-3P in its traditional format, or add the PG-200 and dig deep into vintage-style synthesis. Formatted specifically for the PLUG OUT interface of the SYSTEM 8, the PG-200's controls integrate flawlessly into a diverse range of setups. This treasured synth will deliver the sounds of the early '80s directly to your DAW, adding a singular flavor to any musical arsenal.