GALAXIAS brings 50 years of legendary Roland synths and drum machines together into one powerful Super Instrument. Access thousands of iconic sounds and freely combine authentic Roland instruments from vintage to modern. Explore supermassive GALAXIAS Scenes filled with intricate layers and deep macro controls. And discover exciting new worlds with infinite creative possibilities.
One Super Instrument packed with synths and drum machines from Roland's long history

An evolving platform instrument that continually grows with new sounds, features, and more

Combine, layer, and sequence up to four instruments per instance

Explore over 20,000 inspiring sounds and dozens of evocative Scenes

Search by instrument, sound type, Sound Pack, keywords, and more

Scenes contain all instrument settings plus patterns, effects, and more

Build Setlists for dynamic live performances with seamless Scene changes

Drag-and-drop audio or MIDI to your DAW timeline

Intuitive interface with color coding for easy navigation and creative confidence

Powerful macro performance controls for maximum expression

Context-sensitive browser automatically shows what you need

Tempo sync for effects, sequencers, macro knob LFOs, and more

Use standalone or as a VST3 or AU plug-in* for your favorite DAW

Legendary instruments. Iconic sounds.
Roland has been a pioneer in music technology for over half a century, delivering a continuous stream of influential instruments and effects that have fueled countless hits, defined genres, and driven cultural trends. With GALAXIAS, you can now explore and experience them all in one creative environment. From historic icons such as the JUPITER-8, TR-808, and D-50 to modern instruments like ZENOLOGY and SYSTEM-8, GALAXIAS harnesses Roland's evolving sonic legacy within a single intuitive workflow.
A voyage of discovery.
Choose from your favorite Roland synths and drum machines, search specific sound types, or mine the ever-expanding collection of over 20,000 sounds to spark new ideas and build compelling tracks. GALAXIAS puts unlimited albums' worth of inspiration at your command—from vintage sounds to futuristic hybrid tones—with more added each month.

Roland Super Instrument.
GALAXIAS lets you layer up to four instruments to create massive sonic superclusters called Scenes. Build an intricate setup of your favorite Roland instruments, such as a full stack of JUPITER and JUNO synths, or multiple eras of TR drum machines locked in perfect sync. Dial in an arpeggiator pattern (or four), quickly define key ranges and macro controls, and then play the whole thing as a single instrument in the studio or on stage.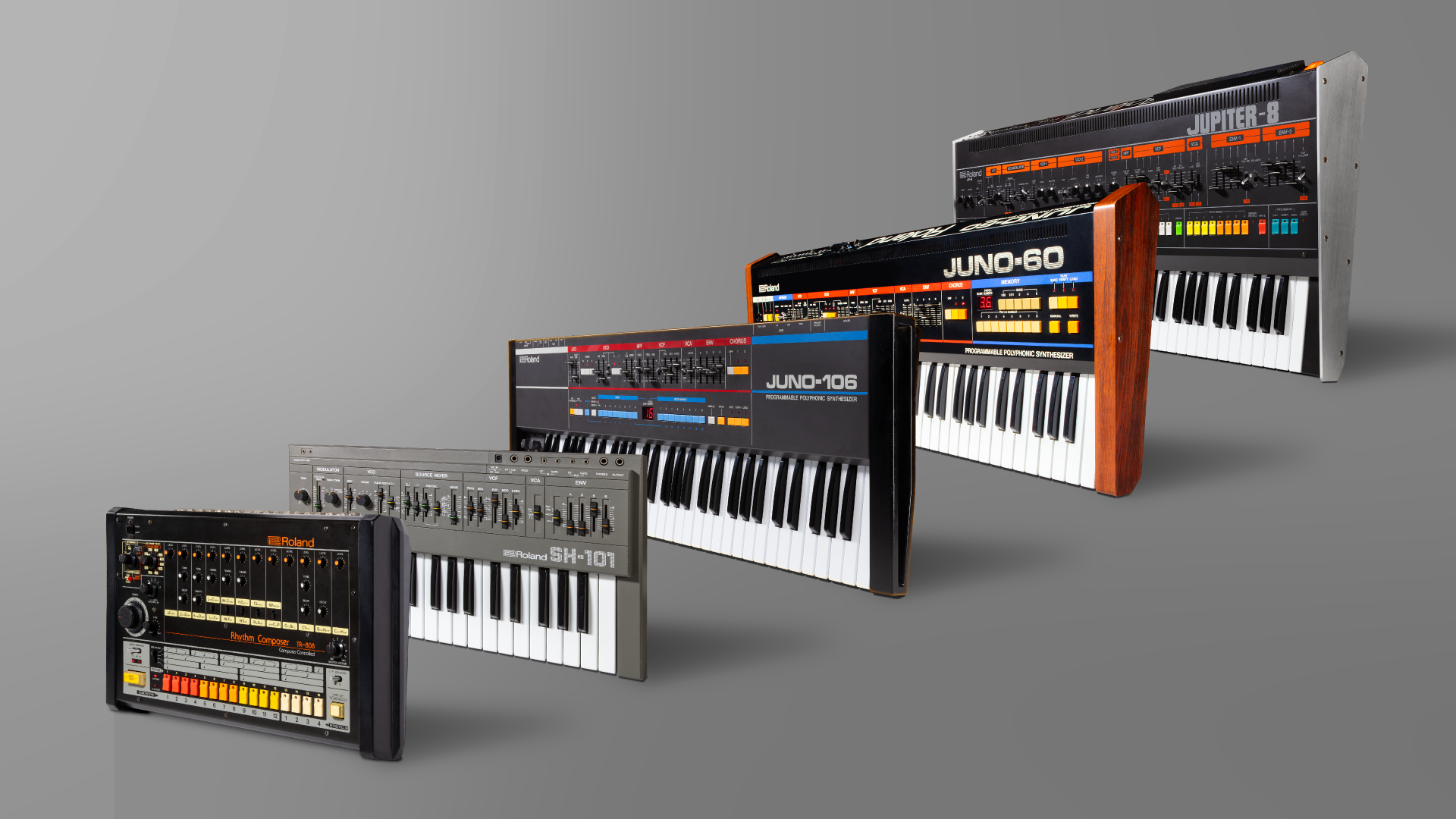 Build epic splits and layers.
Every layer in GALAXIAS has its own key range, transpose, and MIDI input settings. The convenient learn and drag functionality makes it fast and easy to build intricate, layered sounds that are deeply engaging and demand attention.


Take full control.
Experience a new level of expression and playability with the ultra-powerful macro controls in GALAXIAS. Easily assign any instrument, effect, or mix parameter to the 16 color-coded knobs and link them to a MIDI controller for real-time operation. Control multiple parameters at once and manipulate them by hand or via tempo-synced LFOs. And with the Smart Link function, you can define parameter ranges and inversions with one simple action.

Effectively awesome.
In addition to the formidable effects within each individual instrument, GALAXIAS gives you two insert effects per layer and two global send effects. Choose from the growing collection of authentic Roland and BOSS effects and take your sounds to new frontiers. You can also route layers to external outputs or channels in your DAW for further processing.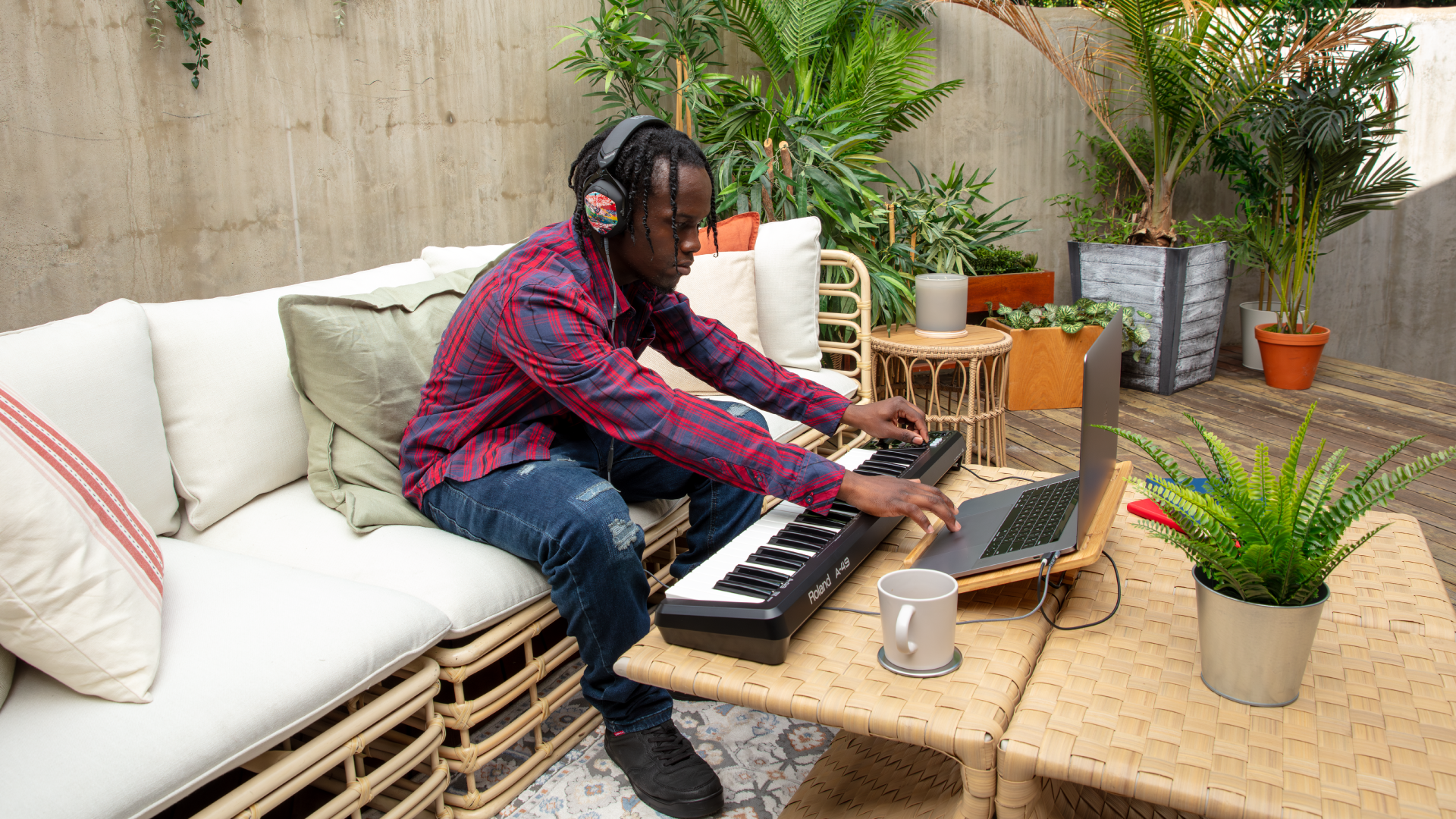 A burst of inspiration.
Glistening arp patterns and thundering bass lines are only a few clicks away. Along with the onboard pattern sequencers in many of the individual instruments, GALAXIAS provides a simple yet powerful arpeggiator on each layer. This feature will grow with more advanced sequencer capabilities and other creative tools in future updates.

Create at the speed of light.
The inspiring GALAXIAS interface has been carefully forged for rapid creativity and instant satisfaction. You don't need a manual to get going, and it's easy to go deep to quickly translate your ideas into great-sounding tracks. In fact, GALAXIAS may well be your starting point in every creative session and, paired with your favorite DAW,* can take your music to unexplored territory.

*GALAXIAS DAW plug-in support coming soon.
GALAXIAS in your DAW.
While GALAXIAS can run as a standalone instrument, it also works as a multichannel plug-in* for browsing, playing, and recording directly in your DAW. Arpeggiators, pattern sequencers, and LFOs sync with the master tempo, and you can even drag and drop MIDI and audio directly to tracks with some instruments. And with the future GALAXIAS roadmap, that's only the beginning.

*GALAXIAS DAW plug-in support coming soon.
Immerse yourself.
Delve into a single instrument layer, go deep into the full set of parameters, and get the experience of using the original hardware. With the full-screen Immersive View, you can toggle your focus between the entire Scene and an individual instrument or effect using a single click or key command.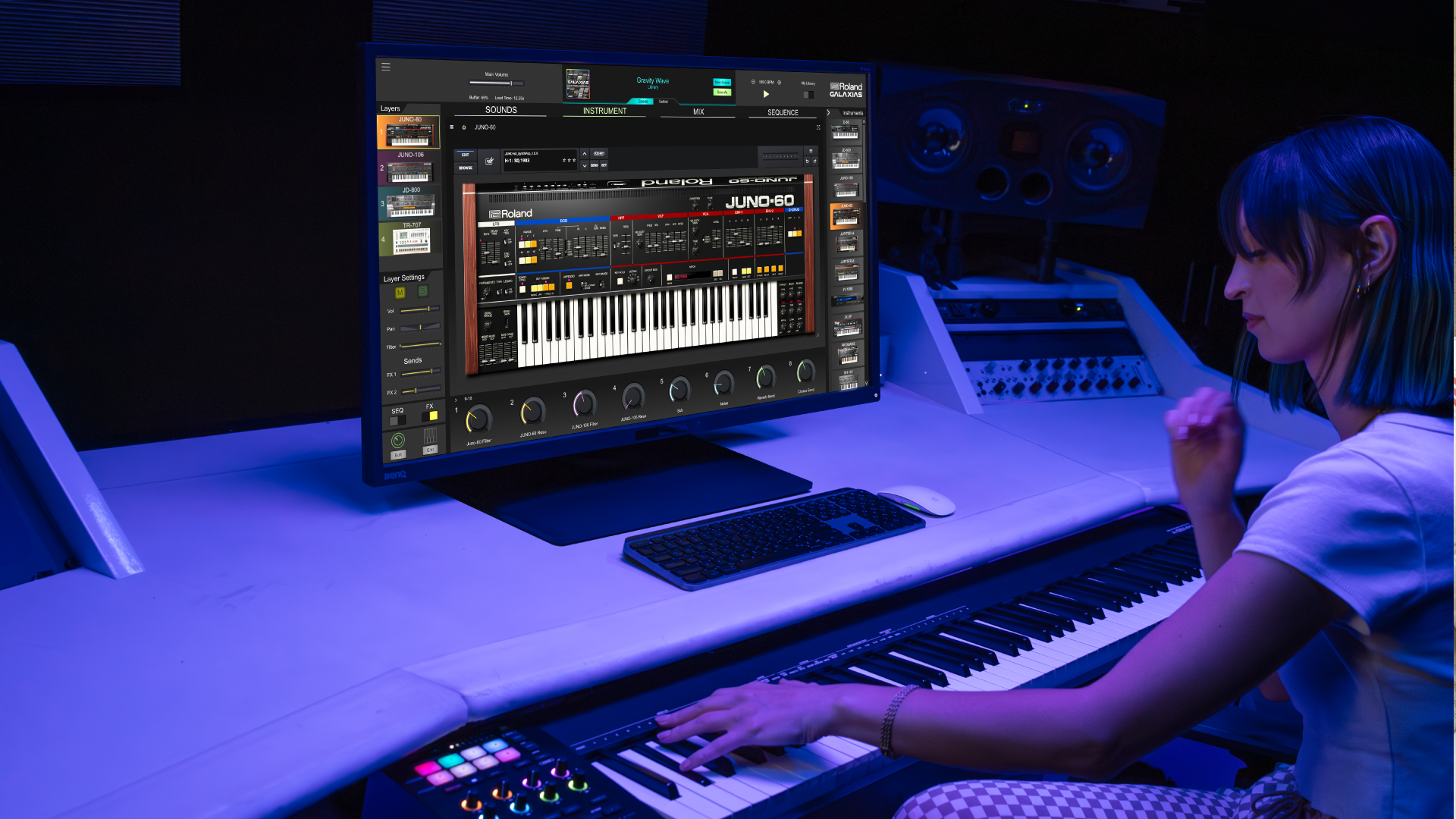 The ultimate way to experience Roland Cloud.
Open GALAXIAS and you'll find it bursting with instruments, sounds, effects, and creative tools to inspire your music. Powered by Roland Cloud, GALAXIAS takes full advantage of all the instruments and effects that Ultimate membership offers, delivering a sound palette of truly epic proportions.
The sky is not the limit.
GALAXIAS is a rapidly evolving platform instrument that will continue to improve with new sounds and capabilities added regularly. With full access to the growing library of Roland instruments and effects—and the ability to search across thousands of sounds in an instant—the GALAXIAS creative journey will only get better with time.


GALAXIAS is available exclusively with Roland Cloud Ultimate membership. Along with providing the fuel for the GALAXIAS environment, Roland Cloud gives you independent access to a universe of creative tools for computer-based music production, including software versions of vintage Roland instruments, ZENOLOGY, Sound Packs, Wave Expansions, Zenbeats, and much more.