A Studio of Kits to Control
Drum Studio's classic kits come from a history of craftsmanship born in the deep south and Quebec. We captured these cutting-edge samples with modern recording tools. Now, these meticulously recorded drum sounds are yours to explore. Presets like "Rock It," "Backbeat," "Wooden Hoops," "Nashville," and others provide starting points in a variety of styles useful for different applications. Just download, open in Concerto, and start playing!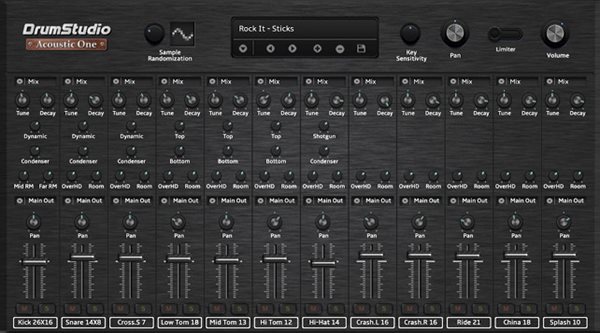 Drum Studio includes 6 kicks, 5 snares, 9 toms, and 7 cymbals all sampled with varied articulation and multiple microphone placements and played with sticks, brushes, and hot rods. Included in the collection are a 1926 snare, a 1960 14x24 bass drum, and dozens of other sounds designed to bring an authentic vibe to your music.

HRES (High-Resolution Extended Samples)
Drum Studio uses high-resolution extended samples. During the sampling process, we exceed the normal 127 velocity steps by recording volumes that are a fraction of single velocity amplitude. We capture up to 300 samples to create these fractional velocities and multiple samples fall within a single value. For example, a velocity of 95 has multiple associated samples, each with its own minor variances.
RRS (Round Robin Sound) Sample Randomization
To take advantage of the HRES samples, Drum Studio utilizes a 'round robin' randomization feature or RRS Sample Randomization. Play the same velocity and the RRS will randomize the samples that have been assigned to that single value. Strike velocity 95 repeatedly and RRS will trigger different samples to avoid "machine gun" playback. You then have settings which can modify the behavior to suit your preference. This creates a more realistic, dynamic, and nuanced performance.
Effects
The effects panel below Drum Studio applies different effects to the entire instrument. Add delay or distortion to the entire drum kit and tweak the knobs to your liking. The combinations are endless.
Mics
A wide range of microphone perspectives controls the volume balance between the different mics used in the original recording. These options include dynamic, condenser, overhead, shotgun and others. Balance the mics to achieve your perfect room sound.
Mix, Compressor, and Reverb Tab Views
Drum Studio also has three separate tab views built into its structure. The "Mix" tab allows a range of control for each individual track. The "Compressor" tab allows you to take advantage of Concerto's onboard compressor or a third-party compressor of your choice, utilizing the "Bus Combo" option. Looking to add spaciousness to your drum mix? The "Reverb" tab enables 4 different reverb sends to selected instruments with individualized parameters.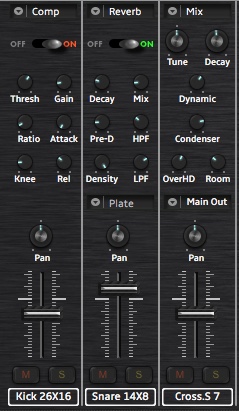 The Acoustic Drum Kit Reigns

Few live experiences beat the excitement of a powerhouse drum performance. From arena to club, rock band to big band, the drum set remains the center of the musical action. Let Roland Cloud's Drum Studio add nuanced, HRES-sampled drum sounds to your project.

Key Features
HRES (High-Resolution Extended Samples) acoustic drum kits
Cutting edge drum sounds captured with modern recording tools
RRS (Round Robin Sound) Sample Randomization
Dynamic drum mixer w/ multi-mic control and effects
Individual control of 6 kicks, 5 snares, 9 toms, and 7 cymbals all sampled with varied articulation and multiple microphone placements
Ten preset kits optimized for different styles and genres