For this update we are off to the symphony with one of the most iconic and recognizable Orchestral libraries ever to grace the world's music racks and studios; now available for your DAW!
---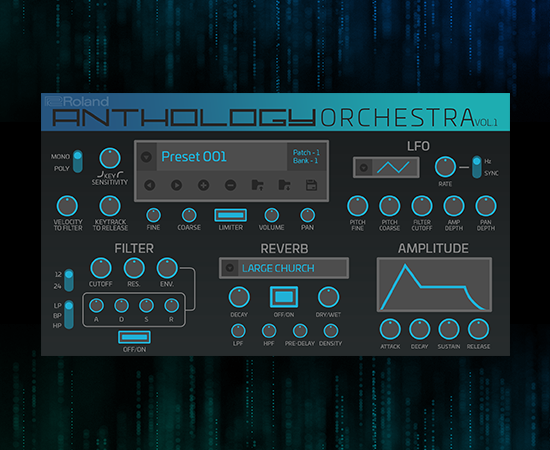 Introducing Anthology Orchestra
Strike up the band... Again!
Anthology Orchestra faithfully captures and puts at your fingertips a vast variety of realistic sounds for classical orchestration originally released by Roland. Originally described over 25 years ago as "a sophisticated assortment of string, woodwind and brass sounds as well as professional percussion techniques such as rolls and flams" the orchestral sounds contained in Anthology Orchestra have withstood the test of time; so much so that we've been asked by several Roland Cloud members to recreate them with an addition to the Anthology series. We agree, we did, and here you go!

With Anthology Orchestra we've captured many of the subtleties, characteristics and personality of the original instrument and recreated a uniqueness that could only be found in the original... Until now.
Read More...
---
Happy 30th Anniversary!
Celebrate 30 years of the Roland D-50 Linear Synthesizer with us!
30 years ago saw the collaboration between some of the greatest minds in musical instrument history produce one of the most significant synthesizers of all time: The Roland D-50 Linear Synthesizer. We invite you to join Roland Cloud in celebrating the 30th anniversary of this legend!
Read more on Roland.Com...
---
Still missing out?
You don't have to miss out! As a Roland Cloud Core Member, you'll be the first to receive new features, updates and instruments and be a part of history in the making.