The latest release from Roland Cloud, 4.3 "Late-Summer Update" has gone live! Whether it's a smoky jazz club or a thumping discotheque, this update will fill the air with music. The 4.3 update adds to Roland Cloud 2 seemingly dissimilar yet necessary additions to our ever-growing catalog: a silky and rich electric piano via Anthology EP14 and a disco-funk genre based palette for the FLAVR series in Funky Fever.
---
FLAVR: Funky Fever
The power to groove you!
The latest tasty treat from Roland Cloud's FLAVR series of virtual instruments, Funky Fever captures the essence of your favorite disco nightclub and puts it in your DAW. We've been in the creative kitchen cooking up the latest FLAVR instrument and it's sure to fill the dance floor. For Funky Fever, we've teamed up with none other than SyncBeats' very own Ehud Kaldes. Ehud is an expert producer, sound designer and multi-instrumentalist. Working in LA's top recording studios. He has collaborated with some of the music industry's biggest names. We're excited to give you a chance to taste the first of Ehud's FLAVR additions to Roland Cloud.
---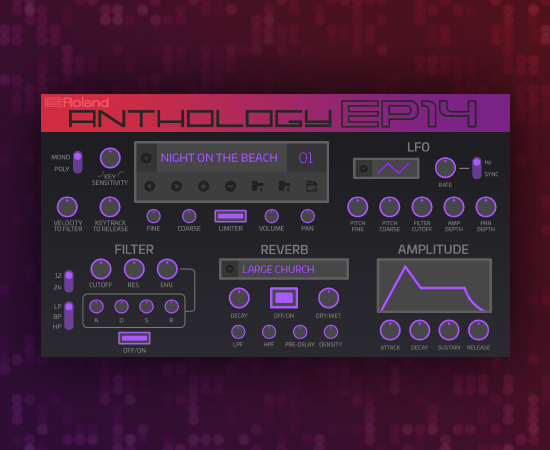 Anthology EP14 makes its debut!
Smooth and rich electric piano tones for your DAW
You let us know that you wanted a library of luscious electric piano tones to go along with the ever-growing catalog on Roland Cloud. Our response? It's an ultra-deep sampled software synth called Anthology EP14. As you may have figured out by now, the EP stands for "electric Piano," and as always, Anthology stands for "easy to use, light on system resources, and great sounding." We'll let you guess where we came up with the "14." Regardless of the name, Anthology EP14 really does represent the great sounds of Roland distilled into a portable package.
---
Be a part of the solution
As a subscriber, you'll be the first to receive new features, updates and instruments! Sign up for a trial or subscribe now, let us know what you want, and we'll take it from there.