Roland Cloud release 3.1 is live!
We've been spreading the word that Roland Cloud is a service that promises to bring you exciting new instruments, technologies and services and with our latest 3.1 release we're putting our money where our mouth is. This release contains new instruments, new features and bug fixes and enhancements to our current catalogue. We're extremely excited to bring you this release and are sure that you'll enjoy taking part in it as much as we enjoyed creating it.
Introducing FLAVR
Have you ever been making music in your DAW and wished you could add that extra something to give your creation something special? We have, and this is why we're proud to bring our newest line of virtual instruments, purpose-built to provide immediate gratification. The FLAVR series does exactly what the name implies: Allows you to sample and digest the perfect patches for your masterpiece.
Our first addition to the FLAVR series, GRIT, adds just the right amount of texture to your favorite dance recipes. Influenced heavily by modern Bass House with a smattering of your other favorite EDM genres tossed in for good measure, this FLAVR instrument delivers gritty wobs suspended in creamy subs with risers to add just the right amount of tension.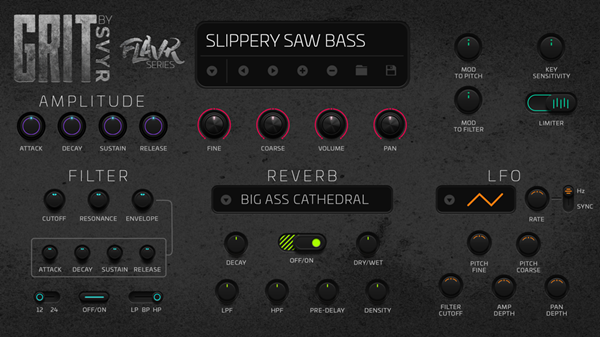 When realizing how best to kick off the FLAVR series, it became evident that the best FLAVR comes from the best chefs. GRIT represents the culmination of a deep partnership between Roland and expert producer, musician and DJ, SVYR (James Egbert.) With multiple chart-toppers across many popular music services, it's no surprise that he was our first choice to add some FLAVR to your dance tracks.
If you're like us, you can't wait to sample more FLAVR. We want you to. GRIT is only the first of many in the FLVR series of software synthesizers which will include other genre, texture and artisticly inspired instruments and sounds. Subscribers to Roland Cloud can expect many more courses to come at a regular cadence so stick around and enjoy.
Welcome to the family, Anthology 1985 Volumes 1 and 2!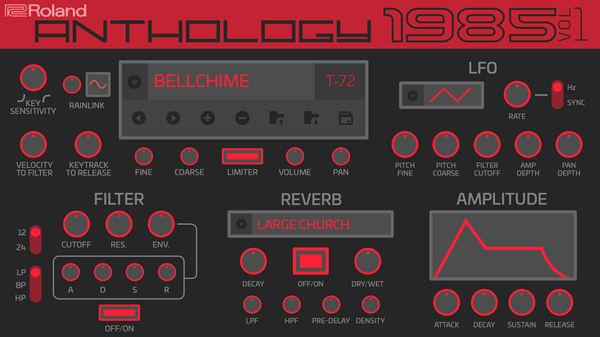 We're also extremely excited to announce the second addition to the Anthology series, Anthology 1985. For this re-envisioning of 1985's legendary Roland synthesizer, we travelled back in time to the mid-80's to bring back the iconic sounds that graced recording studios, concerts and warehouse parties across the globe.
Load Anthology 1985 into your favorite DAW and teleport back to the mid-80's. Spanning the two luscious volumes are some of the most recognizable sounds in the history of electronic music. Whether your tastes range from vintage synth-pop to 80's funk to sound effects from space, there is something here for everyone. The hoover is back and it's ready to rock.
Using ultra-deep sampling, we brought 1985 back with a level of fidelity that has not been possible to attain without actually owning vintage hardware. All of the nuances of Bouncy basses, etherial pads and swirly strings are at your fingertips, just as you remember. Combine low CPU overhead with a low learning curve to get in and start creating and you can see why this instrument is more than just nostalgia.