V-Drums Kit Packs are premium drum kits for select V-Drums modules, crafted by leading drummers and audio engineers to deliver polished, professional drum sounds for live performance, recording, and practice. Each ready-to-play kit makes full use of the module's powerful drum editing tools and studio-grade processing for an instantly satisfying playing experience. Custom samples layered with internal drums are also included, providing unique sounds you can't get anywhere else. V-Drums Kit Packs are available exclusively through Roland Cloud.

​• Five premium kits for performance, recording, and daily drumming sessions
• Includes custom layered samples that can also be used to create your own kits
• Compatible with the TD-17 and TD-27 V-Drums sound modules (TD-17 Version 2.01 or later required)
• Available with a Lifetime Key purchase in Roland Cloud Manager

Timeless Pop Tracks Vol.1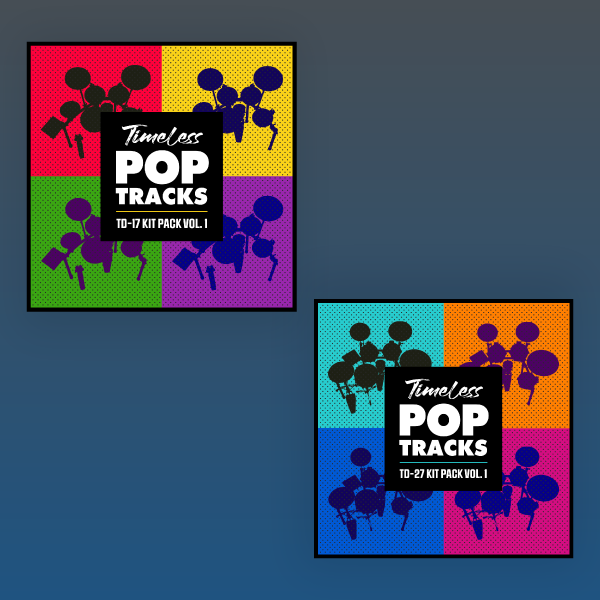 Drum with enduring tunes from multiple generations with Timeless Pop Tracks Vol. 1, a premium collection of drum kits and custom layered samples for the TD-17 and TD-27 V-Drums sound module.

These professionally curated pack feature detailed reproductions of the drum sounds for five iconic songs. The expansive onboard editing tools have been used to match the original recordings as closely as possible, including drum and cymbal selection, head types and tuning, overhead mic sounds, room characteristics, studio processing, and more. These drums are designed to sound "just like the record," making you feel like you're behind the player's actual kit while performing live, recording, or jamming at home.
Download Timeless Pop Tracks Vol. 1 for TD-17 and TD-27 today—available with a Lifetime Key purchase in Roland Cloud Manager.